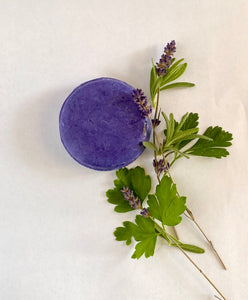 Purple Platinum (Anti-brass & Toning) (Neutralizing)
Regular price $20.00 Sale
Purple Platinum:
Formulated with violet pigment & chamomile extract to help neutralize brassy & yellow tones!
Great for brightening and refreshing blonde & color bleached hair.  This aromatic bar helps kept silver & white hair fresh and bright.
Mild enough for daily use, scented with Rosemary, Lavender, Peppermint & Citrus therapeutic essentials oils to promote feelings of clarity and focus.
Purple Platinum shampoo bars are loaded with vitamins, antioxidants, and amino acids which help improve hair manageability, shine, and volume.