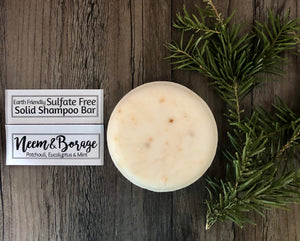 Neem & Borage Shampoo Bar (Itchy, irritated scalp)
Regular price $20.00 Sale
Neem & Borage:
This shampoo bar is packed full of ingredients your hair will love! For all hair types, this ultra-gentle shampoo creates a creamy rich lather specifically formulated to soothe irritated & itchy, sensitive scalp.
Featured Ingredients:
 Neem oil which has an extensive history in Ayurvedic medicine and is full of nutrients that help grow longer, stronger & healthier hair. Commonly used to help with dandruff issues.
Borage seed oil is a natural plant keratin for strong & well nourished  hair.
Silk  protein helps to strengthen and improve elasticity & prevents moisture loss.
Organic comfrey helps soothe scalp, prevent dry & itchiness by conditioning & providing nourishment, also helps improve elasticity and softness.