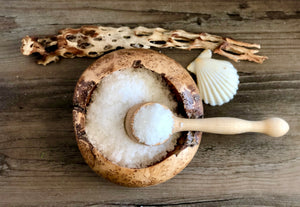 Muscle and Joint Aromatherapy Sea Salt with Dead Sea Minerals
Regular price $18.00 Sale
Our signature detoxifying blend of Israel sea salt, Epsom salt, and the highest grade therapeutic Dead Sea salt with over 21 essential minerals helps soothe & relax overworked muscles and loosen stiff joints. 
An aromatherapy blend of Eucalyptus, Rosemary, Camphor, Copaiba and Cajeput therapeutic essential oils with a warming herbal scent.  
For external use only, if pregnant of suffering from a medical condition consult a healthcare practitioner before use. May cause slippery surfaces. Not recommended for children.
Recommended Usage: Fill bathtub with warm water, soak in the salt water for a minimum of 20 minutes.