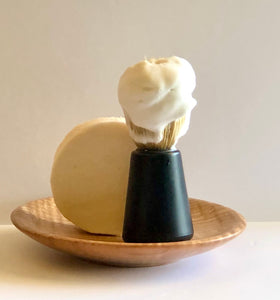 Men's Classic Shave Soap
Regular price $16.00 Sale
All-natural, aromatic & refreshing Patchouli Lime concentrated shave soap with creamy thick velvety lather for an ultra-smooth, silky shave. 
Hydrating, rich lather for all skin types especially ideal for sensitive skin
Formulated with shea butter & glycerin for extra post-shave moisturizing!
Lather with a shaving brush and bowl for best results
How to bowl lather:  Using a wet shaving brush, load up shave soap. (A little goes a long way).  Add several drops of warm water to a steep-sided bowl (scuttle), or a shaving mug and swirl your brush on the bottom in circular motions until the required amount of lather and creaminess is achieved. Apply directly to a warm, wet face coating the skin evenly.  Shave.
Non-toxic, zero-waste, and plastic-free shaving! Travel tin included! Shave brush not included.