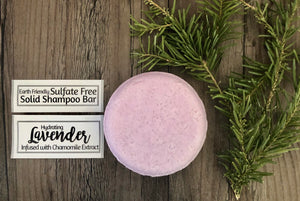 Lavender & Litsea Hydrating Shampoo Bar (Daily moisture balancing formula)
Regular price $20.00 Sale
Lavender & Litsea: 
A chamomile infused hydrating shampoo bar with a moisture-balancing formula that can be used every day to promote healthy, manageable hair. It's loaded with extra plant-based emollients for silky smooth hair. 
Featured ingredients:
Meadowfoam seed oil adds shine, frizz control, and conditioning ability
Silk protein helps to strengthen and improve elasticity & prevents moisture loss
Panthenol Pro Vitamin B5 penetrates hair & helps retain moisture, increases shine and manageability while hydrating hair
Chamomile extract to restore vibrancy
A  synergistic essential oil blend of Lavender, Litsea & Peppermint. Elevate your mood, clear your mind and uplift your energy!
Ideal for normal or fine hair.