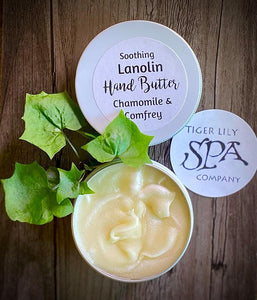 Lanolin Hand Butter
Regular price $14.00 Sale
Soothing & ultra-creamy lanolin hand butter formulated specifically to rejuvenate dry, cracked hands.
A  non-greasy formula featuring lanolin a 100% natural moisturizer, and skin protectant. 
Rich & indulgent mango and kokum butter.  Wildcrafted plantain, locally grown chamomile &  organic comfrey extract infused in cold-pressed olive & sunflower oils.
Lightly scented with sweet orange, cinnamon, clove & cedarwood essential oils.
Apply sparingly when needed or massage into hands for overnight treatment.
Ideal travel companion, and a winter season essential.
2 oz reusable tin