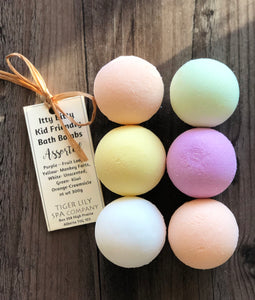 Itty Bitty Kid Friendly Bath Bombs
Regular price $20.00 Sale
When dropped into a warm bath, the Itty Bitty Kid Friendly Bath Bomb will explode with fragrance and create a bubbly, fizzy and delightful bath!
Designed specifically for children, with finely milled 100% pure colloidal oatmeal and milk powder for soothing itchy irritated skin. Natural emulsifiers to dispense organic and conditioning oils. Itty Bitty bath bombs do not contain synthetic foaming agents, parabens or phthalates!
Pure ingredients for a perfect pre-bedtime bath!
Package includes 6 assorted 2" bath bombs in a variety of colours and scents.