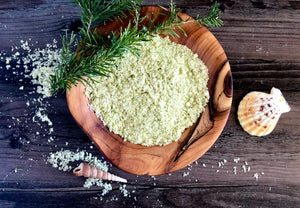 Detox Aromatherapy Sea Salt with Dead Sea Minerals
Regular price $18.00 Sale
Invigorate your body and improve circulation, health and well being.  Formulated with foraged fir needles to help detoxify your body and clear your mind. 
Featured Ingredients :  An essential oil blend for respiratory support that includes Eucalyptus, Myrtle, Marjoram, Black Spruce, Pine & Peppermint & Grapefruit
Take a moment to relax &  breath deeply. 
For external use only, if pregnant of suffering from a medical condition consult with a healthcare practitioner before use. May cause slippery surfaces.
Recommended Usage: Fill bathtub with warm water, soak in the salt water for a minimum of 20 minutes.