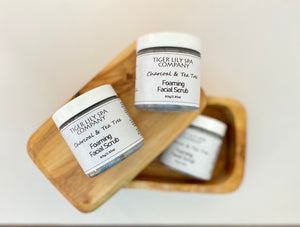 Charcoal & Tea Tree Foaming Facial Scrub
Regular price $15.00 Sale
Brighten, refresh, and exfoliate.
A gentle facial scrub with 100% natural apricot seed powder & charcoal exfoliation for deep pore cleansing & detoxifying in a gentle creamy & bubbly rich foamy lather.  With ultra-soothing chamomile extract that will leave your face soft & fresh. 
Includes anti-inflammatory & anti-bacterial tea tree & lemon essential oils.
Use daily for oily, acne-prone skin or weekly for dry, normal, or sensitive skin.
No harsh chemicals or environmentally harmful plastic microbeads.