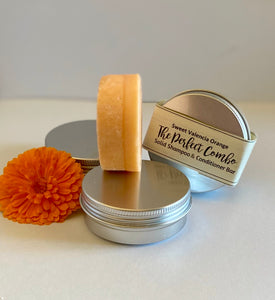 The Perfect Combo
Regular price $22.00 Sale
Double-sided
Shampoo & Conditioner Bar 
Cleansing and conditioning all in one bar 
zero waste, PH-balanced and 
perfect for camping and traveling!
Use as a shampoo, body wash, conditioner & shave bar
4 in 1 solid bar
  a great alternative to plastic bottles
sulfate free &  silicone free
How to use: Begin by thoroughly wetting hair, hold the bar shampoo side up in the palm of your hand, and gently massage into hair and scalp until the desired lather is achieved, rinse clean.  Use the shampoo side as a sudsy body wash!  Glide the conditioner side of the bar over your wet hair concentrating on the ends, being sure to distribute evenly, when hair feels tangle free rinse thoroughly, the conditioner side can also be used as a shaving bar, simply slide the wet bar on wet skin and shave as normal!
Suitable for all hair types! Includes travel tin