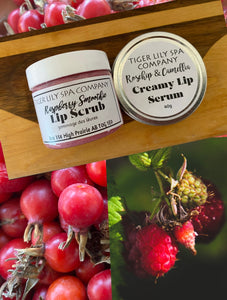 S.O.S Lip Care Combo
Regular price $20.00 Sale
Say goodbye to chapped lips with the S.O.S lip care combo which includes an exfoliating Raspberry smoothie lip scrub and a super creamy lip serum. 
Treat your lips to a bi-weekly scrub that will gently buff dry skin away to reveal softer & nourished lips, follow up with the Rosehip & Camilla seed lip serum! The restorative lip serum is instant moisture for your lips and is formulated to penetrate deeper than a regular lip balm, it's slightly tingly with a bit of peppermint oil added.
Featured ingredients include olive squalane which deeply soothes and moisturizes, without leaving an oily film.
Argan & Jojoba oil to nourish and condition lips and oat carrier oil which is rich in antioxidants and vitamin E.